Restorative Dentistry on the Upper East Side
---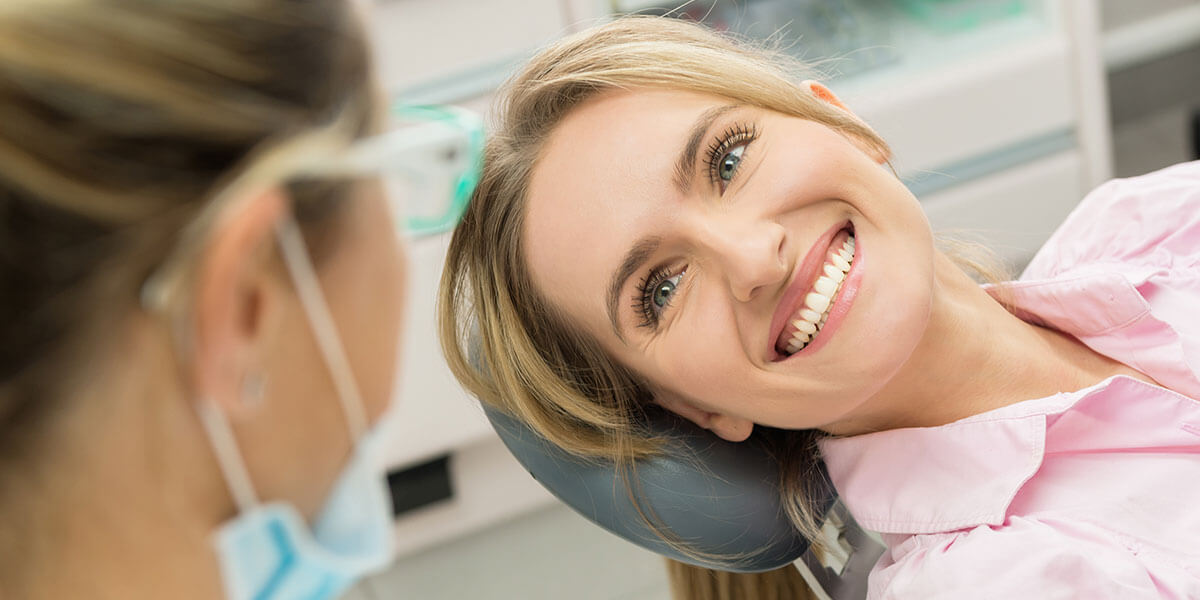 ---
Minoli & Vijay, DDS PC provides restorative dentistry on the Upper East Side of New York City. To learn more or schedule an appointment, call 212-888-4140.
The goal of restorative dentistry is to replace or restore teeth that have been lost or damaged due to decay or dental trauma. While restoring oral health and function is most important, many of these procedures also improve the aesthetics of your smile.
We use a biomimetic approach in all of our restorative treatments. By constructing highly realistic restorations, biomimetic dentistry repairs teeth in a way that mimics their natural biomechanics and aesthetic form. With a biomimetic approach, only the damaged portion of a tooth is removed, and the final restoration is bonded to the healthy tooth structure that remains.
Our restorative procedures include:
---
Restorative procedures help protect both oral health and overall health while improving the appearance of the patient's smile. The right restorative procedures at the right time can reduce the need for additional dental work in the future.
---
Biomimetic Dentistry is defined as the reconstruction of teeth to emulate their natural biomechanical and esthetic form and function. Simply put, biomimetic dentistry means to copy what is life-like. With biomimetic dentistry, only the damaged and decayed part of the tooth is removed and the final restoration is bonded to the remaining healthy natural tooth structure. Biomimetic restorations include stress-reduced direct composite restorations and porcelain/composite inlays and onlays that restore the biomechanics of broken and damaged teeth.
When restoring damaged, broken, and decayed teeth, the goal is to return the tooth to its original strength, function, and esthetic. Biomimetic dentistry accomplishes all of this in a conservative approach with strong and attractive results.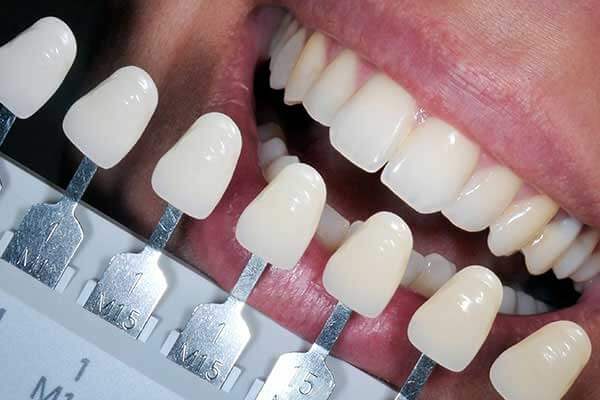 ---
Aside from routine dental exams and cleanings, tooth decay is one of the most common reasons patients visit the dentist. We treat cavities by removing areas of decay and reconstructing the tooth with a composite material that blends in with the rest of your smile for a natural look.
---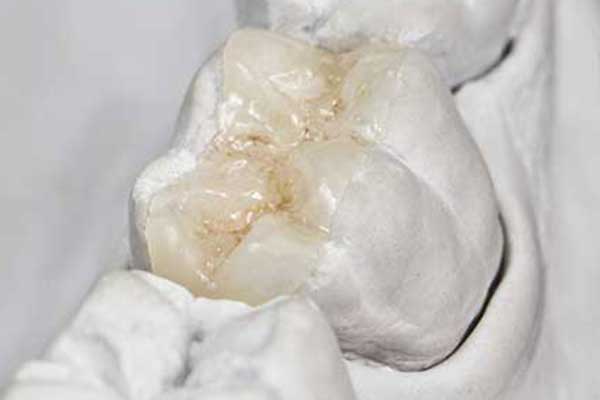 ---
Inlays and onlays are used when damage or decay is too extensive to be repaired with a composite filling, but not enough to require a dental crown. These restorations, also known as partial crowns, are made with porcelain or gold alloy and restore a tooth's function by replacing only the damaged area.
---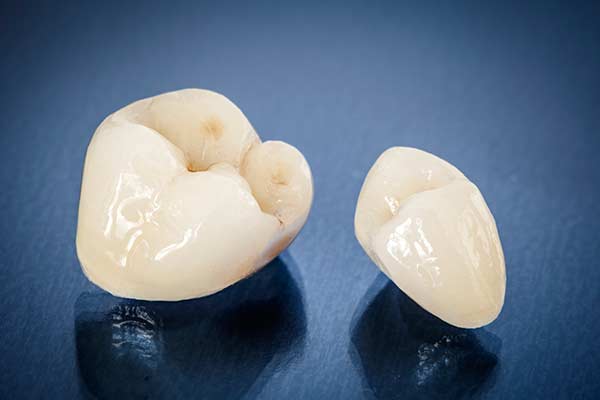 ---
Crowns are dental restorations that cover over a damaged tooth. The most common reason for a dental crown is deep decay, although a crown may also be necessary if a tooth is damaged after an injury, worn down, or fractured.
---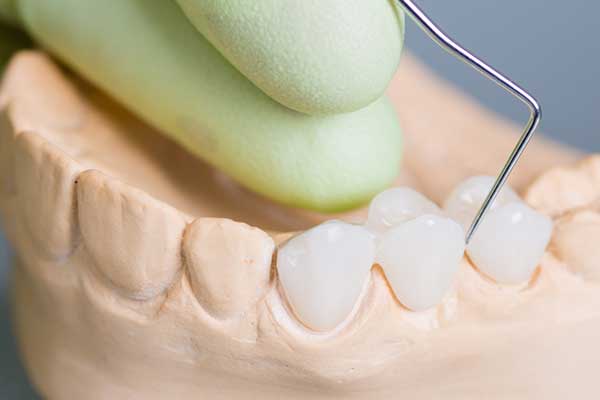 ---
Dental bridges are restorations that use one or two abutments, or supports, to hold in place a span of prosthetic teeth, or pontics. There are a number of different types of bridges available, including bridges that are supported by dental implants.
---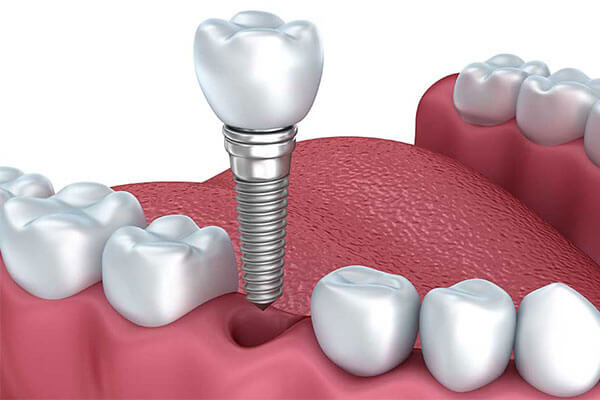 ---
Dental implants are the only treatment option that replaces both the crown and root of a missing tooth, preventing and potentially reversing jaw bone loss. A typical dental implant has three separate pieces: the implant fixture, which is implanted into the jaw, a restoration to replace the missing tooth (or teeth), and an abutment piece to connect the two.
---
---
Dentures
---
A denture is a removable restoration that is used to replace all or most of the teeth in a single upper or lower arch. A full or partial denture can be fixed or removable, traditional or implant-supported. We will help you decide the best choice for your unique needs during your consultation.
---
Frequently Asked Questions About Restorative Dentistry
---
Are composite fillings safe?
---
Yes, composite dental fillings are the safest option available for restoring teeth with cavities.
---
How long do dental crowns last?
---
A crown will last about 15 years on average, but this depends on your oral habits, the location of the tooth, the material used, and your dental hygiene practices. With good care and a strong material, it's possible for crowns to last decades.
---
Are onlays better than crowns?
---
The condition of your tooth determines the answer to this question. An onlay requires the removal of less tooth structure than a crown, preserving more of your natural tooth. However, if your tooth is severely damaged, a crown is likely needed because there may not be enough healthy tooth structure available for onlay placement.
---
Do dental bridges look natural?
---
Yes, dental bridges that are designed by a skilled dentist and fabricated with high-quality materials look natural and blend in flawlessly with the rest of your smile. No one will realize that you have a bridge!
---
Can I get my teeth pulled and dentures in the same day?
---
You may be a candidate for same-day dentures, but the dentures you receive after your extraction are only temporary. Your gums and jaw will need to fully recover from the extractions before we can fit you for a set of permanent dentures.
---
Can you go from dentures to implants?
---
Yes, many patients choose to switch to dental implants after wearing dentures for years—and sometimes even decades! If you've experienced bone loss in the jaw, you may need bone grafting prior to dental implant surgery, but other than this, there's no reason why you can't get dental implants if you've had dentures in the past.
To learn more or schedule an appointment, call 212-888-4140.